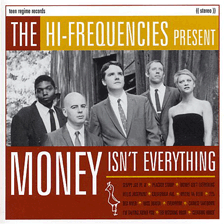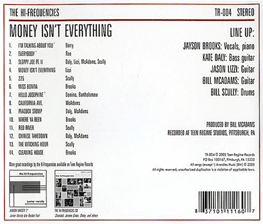 Money Isn't Everything (TR-004)
Recorded: Summer 2004–Summer 2005 at Teen Regime Studios

Release date: December 3, 2005
Track listing:
1. I'm Talking About You
2. Everybody
3. Sloppy Joe Pt. II
4. Money Isn't Everything
5. 225
6. Miss Bonita
7. Hello Josephine
8. California Ave.
9. Peacock Stomp
10. Where Ya Been
11. Red River
12. Chinese Takedown
13. The Witching Hour
14. Cleaning House
Credits:
Jayson Brooks: Vocals, piano, guitar on track 14
Kate Daly: Bass, piano on track 4, vocals
Jason Lizzi: Guitars
Bill McAdams: Guitars, piano on track 4, vocals
Bill Scully: Drums, lead guitar on tracks 11 & 13, vocals
Guest musicians:
Paul Labrise: Baritone guitar, track 8
Melissa Scully: Electric piano, track 9; maracas, track 5
Notes: Nearly three years later and well worth the wait, the hi-frequencies' sophomore album is packed with 11 great new original songs and 3 choice covers. With a mix of instrumentals and vocals featuring the incredible Jayson Brooks, this release sees the h-f breaking into new territory in a big way.

For a preview check out our new version of Chuck Berry's I'm Talking About You.

Read the reviews.
Buy it now with PayPal!