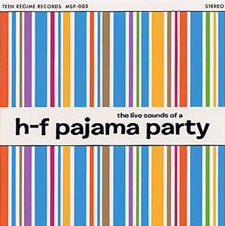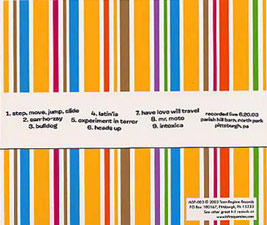 H-F Pajama Party (MSP-003)
Recorded: June 20, 2003
Release date: December 25, 2003
Track listing:
1. Step, Move, Jump, Slide
2. San-Ho-Zay
3. Bulldog
4. Latin'ia
5. Experiment in Terror
6. Heads Up
7. Have Love Will Travel
8. Mr. Moto
9. Intoxica
Credits:
Kate Daly: Bass
Jason Lizzi: Guitar
Bill McAdams: Guitar, vocals
Bill Scully: Drums, vocals
Notes:
Here's the latest collection of tunes recorded live by the h-f. Standout picks include the Freddie King classics "San-Ho-Zay" and "Heads Up," the Arondies' "Step, Move, Jump, Slide," the surf standard "Latin'ia," and more!
For a sneak peek, check out Heads Up.

Sorry, this title is out of print.