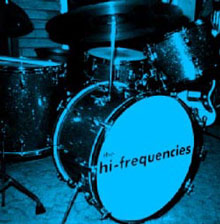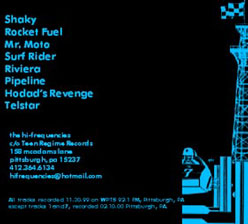 the hi-frequencies play the surfin hits (MSP-001)
Recorded: Tracks 1 and 7 (4-track demos), recorded February 2000; all other tracks recorded live on air at University of Pittsburgh radio station WPTS 92.1 FM, November 30, 1999.
Release date: April 15, 2000
Track listing:
1. Shaky
2. Rocket Fuel
3. Mr. Moto
4. Surf Rider
5. Riviera
6. Pipeline
7. Hodad's Revenge
8. Telstar
Credits:
Kate Daly: Bass
Jason Lizzi: Guitar
Bill McAdams: Guitar
Bill Scully: Drums
Sorry, this album is out of print!